Young Carers Receive Easter Treat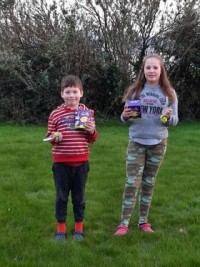 120 young carers from across the Island have received Easter eggs donated by Quilter International.
The gifts were given as part of the company's support for Crossroads' Young Carers Project which is now in its third and final year, and on target to donate £60,000 to the project by the end of 2021. Our Young Carers team distributed the eggs to the young carers last week and they were all delighted with their eggs-tra special Easter treat!
Crossroads' PR/Fundraiser Megan Faragher said that little acts of kindness were always welcome, but even more so right now because social isolation due to lockdown has created additional stress for carers because it made it much more difficult for them to take a break.
A huge thank you to the team at Quilter for such a lovely donation!