Staff Profile: Kinga Kruszewska - Shop Worker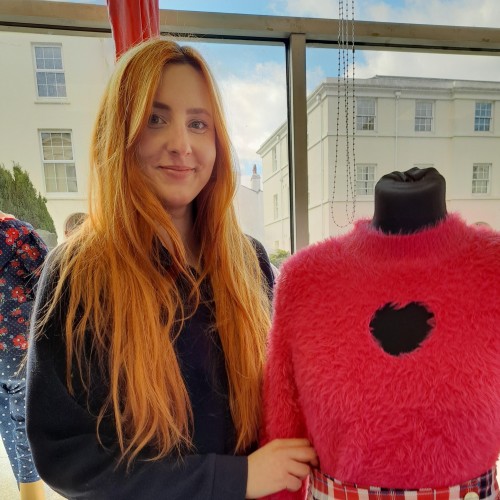 Please tell us a little about you.
Hi, my name is Kinga and I am a Shop Worker in Crossroads.
In general, my main task is to take care of the shop, our amazing volunteers and lovely customers!

What does a typical day look like for you?
When I'm coming to work everything I'm doing behind a closed door is a "supervisor" kind of thing. First I need to prepare the cash register and shop in general for opening.
Then when first customers and volunteers are coming, I navigate between customer service, talking to people to make them feel welcome in our shop and also setting task after task to the volunteers and for myself just to make sure that shop is always full, nice looking and ready to be a warm place for people. Because a lot of the time our shop is not only a place where they're buying clothes, toys or books. Very often is just a place where they're coming to talk and spend a nice time during their day.

What is the best part of your job?
Apart from customer service and spending time with our lovely volunteers, my favourite part is doing window displays and merchandising the shop floor along with taking photos and videos for our social media.

Do you need any qualifications or training for your job?
It's nice if you already have experience in similar role, but not necessarily. For example, I have experience as a visual merchandiser and customer assistant which is helpful with my daily tasks but I have never worked with volunteers before. It's completely different type of cooperation with people then from usual co-workers. But I had a training during my induction weeks which was really helpful in my job position. I also had a opportunity to get to know each part of the organisation responsible for different roles. They all are important because together they work for a common goal which is helping carers on Isle of Man.

What do you think are the most important qualities and attributes you need in your role?
I think the most important attribute to my role is having a "can do" attitude and being just a nice person, empathetic and willing to help others.
Everything else you can just learn! We are going to help you.

What advice would you give to someone who wants to get into the same career?
Come in to the shop and just ask! We're always looking for more help, so starting with volunteering in one of our shops it's a great opportunity to learn step by step how everything works. It's a great way to gain new experience and start doing something nice for a good cause!
I also advise people to follow our website and Facebook page to stay up to date with any news about our work, shops or possible job offers.

What do you enjoy doing in your spare time and do you have any hobbies?
I love fashion and styling so whenever I'm not wearing a work uniform I like to come up with new looks for me and my daughter!
Beside that I like to lose myself in a good book, go for a game of pool with my friends and try new food with my other half. I love to laugh, dance and live my life in this beautiful Island.