Staff Profile: Stefania Neagu - Nursery Worker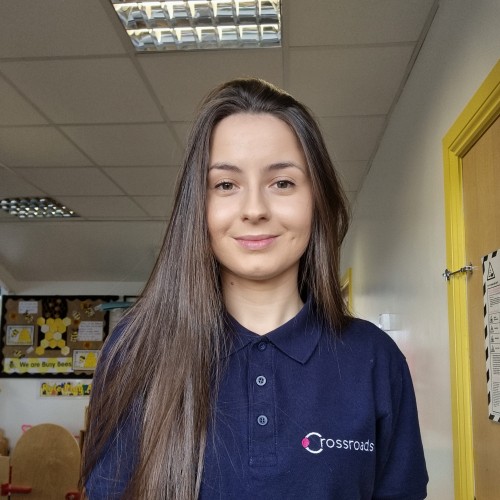 Please tell us a little about you.
My name is Stefania, and I am the Baby Wing Lead at Crossroads Nursery.
My job is to provide a high standard of physical, emotional, social and intellectual care for children place in our setting and also, to work as part of a team in order to provide an enabling environment in which all individual children can play, develop and learn.

What does a typical day look like for you?
The one thing about nursery work is that there is no such thing as typical day! We do try and stick to a routine, but it is subject to change according to the needs of the children and that is why we always need to be flexible.
I start my day greeting everybody with a big smile whilst I begin to set the room up. There are always activities on the go, some planned, some spontaneous. I make sure I always observe the children I work with and note down anything that will help them get the most from their nursery education.

What is the best part of your job?
I love the children! I cannot express how rewarding it is to work with children and how much enjoyment I get from watching a child come out of their shell and develop new skills. All I want is to make their time in my care as much fun as possible so they will hopefully look back fondly on it.

Do you need any qualifications or training for your job?
I have a Level 3 NVQ which I have gained in 2016 along with the standard training that Crossroads provided when I started, such as Safeguarding, Food Hygiene, Health and Safety, COSHH, Data Protection, Allergy Awareness, Moving and Handling, First Aid, EpiPen and in-house bespoke training to support children with hearing impairments.

What do you think are the most important qualities and attributes you need in your role?
To be a good nursery worker, you will need the right combination of qualities. Having patience is an important quality and children are quite accomplished at testing it. Being organised during any group activity helps to keep the children safe while giving them the best chance of achieving their full potential. Positive energy and smile on your face are the two of the greatest tools that will help to create an environment where the children can feel relaxed and comfortable.

What advice would you give to someone who wants to get into the same career?
I would recommend doing a voluntary placement first and seeing if you enjoy the job before deciding on starting the training. Also, try and get some experience with various age groups so you can get an idea of which age you want to work with.

What do you enjoy doing in your spare time and do you have any hobbies?
In my spare time I enjoy reading and spending time with my family and friends. I also love playing sports and staying active. I play volleyball once in a week and I like to stay fit by running or taking long walks.