Staff Profile: Kimmy Sayle - Workshop Assistant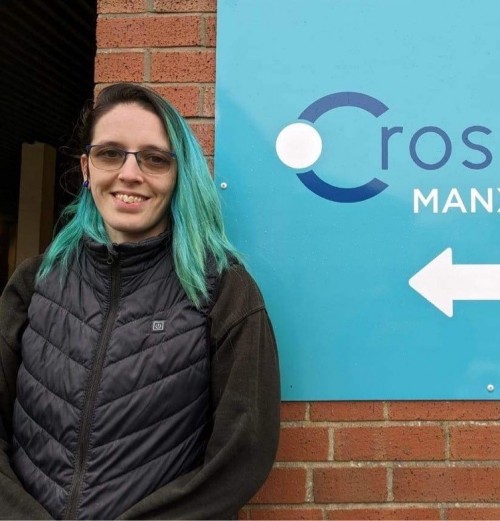 Please tell us a little about you.
Hi! My name is Kimmy and I work as Workshop Creations within the Crossroads Manx Workshop team.
Along with this I also work on trophy engraving, laser engraving, CNC routing, product creation, woodwork with a sprinkle of administration.

What does a typical day look like for you?
I come into the workshop for an 8am start and will usually go through any emails, print off any job requests and then will go ahead and start on the oldest of my list or any emergency jobs, be it in the laser, engraving or woodwork department.
I will work until 4.30pm where I will help close the Workshop and then will go off to partake in an evening gym session.

What is the best part of your job?
Learning new things, having the satisfaction of creating new items and finishing customer orders along with the people that I work with.
Seeing people's reactions to the things that I make, knowing that I have done a good job and helping colleagues where I can so we can achieve goals as a team.

Do you need any qualifications or training for your job?
With use of dangerous machinery, training is always needed.
This can be done by the experienced technicians who have used the machinery for years, or by representatives who come over specifically to train as well as to maintain the machinery. Competency and understanding of the machines are essential, and knowledge of health and safety requirements and practices to use the machines is imperative.

What do you think are the most important qualities and attributes you need in your role?
Curiosity and willingness to jump into the deep end when needed. An eagerness to learn, and to be able to learn quickly. Problem solving skills, determination, a good sense of humour as well as good communication skills, a creative flare and being personable to be able to work well within a team dynamic.

What advice would you give to someone who wants to get into the same career?
Do it! The only person holding you back from your desired career is you.

What do you enjoy doing in your spare time and do you have any hobbies?
I love going to the gym and going on hiking adventures over the Island, exploring different areas and finding amazing views over the Island we live on.
I also like going out and listening to local bands on a weekend and catching up with friends. Every so often I will do some gaming or watch movies and tv documentaries (preferably horror movies or True Crime documentaries).