Staff Profile: Kayleigh Butler -

Children's Services Support Worker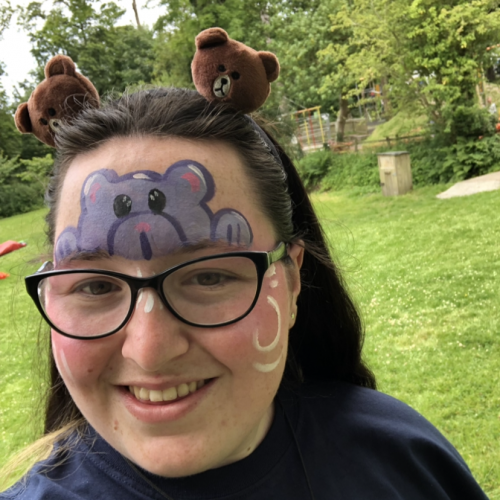 Please tell us a little about you.
Hi, my name is Kayleigh and I am a Children's Services Support Worker.
This means that I work across all of our children's services within Crossroads supporting children both with and without additional needs.
I work primarily with children with additional needs in our Nursery Outreach Scheme and in our fully inclusive nursery, and with our Young Carers groups of various ages, but am able to support older children with additional needs in our holiday scheme and our ASK scheme.

What does a typical day look like for you?
Every day is different for me so I do not have a 'typical day'. As I am across the services I am often in at least two different services everyday.
This may be starting my day in a nursery on the other side of the Island with Nursery Outreach and spending the afternoon in our own nursery, or spending time in the office to then support the young carers until late in the evening. Or, I may spend all of my day with one service, such as during school holidays I can spend all day with young carers, or go to three or four different services in one day. Every day is different.

What is the best part of your job?
There are many 'best parts' of my job. I love being on the move and seeing different people, so working across the services enables me to meet lots of new people and learn new things everyday from the different settings I visit.
I love the aspect of everyday being different, and I'm not repeating myself everyday, doing the same thing.
I love meeting new clients and supporting clients who have used our services for years. I believe it is very important to build a good relationship with the clients so you know they trust you to support their care.
Some of the best parts of my day is just sitting on the floor playing dinosaurs or listening to what children have done in school that day.
Another 'best part' of my job is the people I work alongside. I believe I have a very good relationship with everyone I work alongside, whether it be on services or within the offices, and being comfortable and relaxed around this fantastic team makes any difficult day seem so much easier. Knowing that you can talk to anyone about anything if you are having a difficult day, or are unsure about anything makes coming into work seem less like a job and more like 'just another day'.

Do you need any qualifications or training for your job?
When I first started I did not have any qualifications but I am currently nearly completed with my Level 3 Diploma in Healthcare Support, with the addition of childcare units.
Training is required for certain aspects of my role and I have done both online training and in-person training for various topics.
Online training included fire warden, COSHH, food hygiene, and safeguarding. In-person training has included Safeguarding Children with Disabilities Level 2, moving and handling, epilepsy training, PEG feeding, Sign-a-long, Autism awareness training, health and safety, and allergy/Epi-Pen training.

What do you think are the most important qualities and attributes you need in your role?
In my role you have to be able to adapt to last minute changes. If a client is not well or you're needed somewhere else you have to be able to just 'crack on' with it. It also helps for you to be confident around people, as most of my role involves working with other professionals and families of clients. Ideally you should be fairly organised and have good communication skills. I find it comes in handy to be excited about learning new skills and information as every service requires a different level of knowledge.

What advice would you give to someone who wants to get into the same career?
The only advice I could really give to someone wanting to get into the same or a similar career is to just go for it.
A lot of my role is just learning on the go and adapting to different situations so it is important to just try your best. If you do not feel overly confident then maybe start small by volunteering one day a week or even just an afternoon and never be afraid to ask for advice or support.

What do you enjoy doing in your spare time and do you have any hobbies?
Outside of work I enjoy spending time with my friends and family. Me and my friends all work various shift patterns so we love catching up with each other and watching live music. I enjoy reading, with my favourite books being 'His Dark Materials' and 'Jane Eyre', and usually have two or three books on the go at any given time.
I love animals and many of my friends have dogs so we often go out on long walks and just socialise with each other as we all work in various trades.