Staff Profile: Carlie Maddrell - Listening Practitioner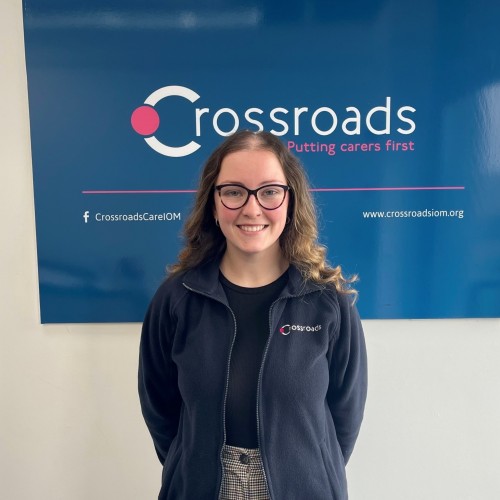 Please tell us a little about you.
My name is Carlie, and I am the full-time Listening Practitioner at Crossroads, within the Listening and Advocacy service.
My role is to help provide emotional support to carers through listening to their concerns and championing what is important to them.
We do this by providing a safe, empathetic and understanding environment for each carer we work with. Through the advocacy support, we help support carers through challenges they are faced with.

What does a typical day look like for you?
Every single day is different, but my days are predominantly made of meeting with carers (in the environment that suits them most, either at home or maybe going for a walk).
I also attend meetings with the Wellbeing Partnerships on the Island which helps us strengthen our ties in the community and reach carers who can often slip through the gaps.
I will review new referrals and make initial contact where appropriate.

What is the best part of your job?
My favourite part of my job is when I can see a noticeable change in a carers confidence and to see them feeling empowered.
I also enjoy the flexibility within the service so we can meet the needs of each carer and their families, which helps make the service accessible.

Do you need any qualifications or training for your job?
Relevant training is all provided at Crossroads but I do have a background in Mental Health and counselling skills. This helps to inform my approach to carers and gives me the knowledge of how to support them best.

What do you think are the most important qualities and attributes you need in your role?
Passion, compassion and adaptability. You need to treat every carer with compassion to help understand their values and what is important to them.
We need to be adaptable because the life of a carer is not always predictable and can change at any moment. This may mean needing to rearrange appointments last minute or attend meetings last minute. Therefore, it's vital we maintain strong communication throughout.
Ultimately, we need to be passionate about our carers and their needs. To be able to go into meetings and ensure the views, wishes and needs of carers is not only heard, but respected.

What advice would you give to someone who wants to get into the same career?
Where possible, try to seek volunteer experience in similar roles to check if you feel it's right for you. Get in touch with professionals and ask for advice with any questions you may have. I would always welcome questions from anyone who may be interested in a similar career in the future.

What do you enjoy doing in your spare time and do you have any hobbies?
I am part of a powerlifting gym (Revolution) where I train 3 times a week. There are some serious muscles underneath this cardigan! Spending time with my friends, family and eating lots of food (ideally chips, cheese an gravy with one sausage and one battered sausage).