Staff Profile: Ben Mowle - Shop Worker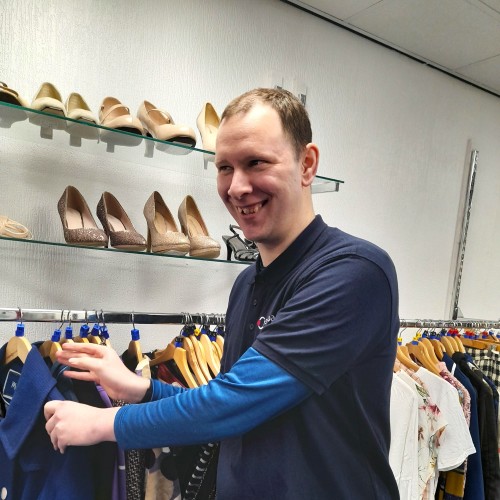 Please tell us a little about you.
My name is Ben Mowle and I am a Shop Worker.
I work in the charity shops supporting the manager and helping volunteers and customers. I usually work between our Prospect Terrace shop and Strand Street shop but am trained for all the shops.

What does a typical day look like for you?
There can be two types of days – a steady flow of customers and people making donations, or a day where they come into the shops in waves.
I'm often at the till, serving the public or sorting through donations. And being in charge of the kettle!

What is the best part of your job?
The social aspect. I get to speak to people and have made good friends.

Do you need any qualifications or training for your job?
Customer service and team working skills are important, and basic IT skills. I find my maths skills are useful too. We do annual online training for manual handling, being a fire warden and some others too.

What do you think are the most important qualities and attributes you need in your role?
A friendly personality, being calm under pressure, adaptability, being able to lone work and being a team player.

What advice would you give to someone who wants to get into the same career?
Be able to think on your feet and able to adapt to change.

What do you enjoy doing in your spare time and do you have any hobbies?
Board games and video games, sport, travel and photography.
I have also been part of a team representing the Isle of Man at the Special Olympics in football, winning gold medals in LA, San Marino and Iceland.
I have taken part in the Parish Walk five times and play crown green bowls.