Christine Barlow Is Our Lockdown Hero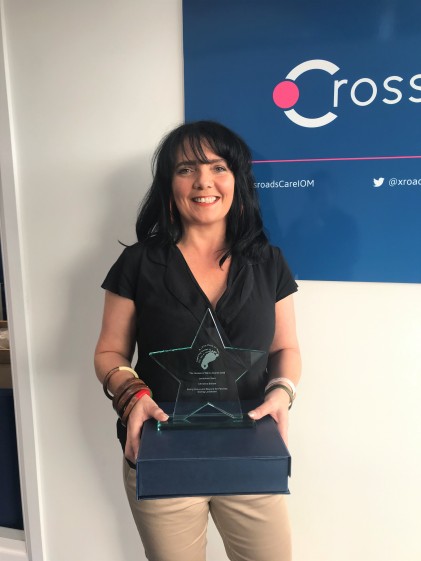 Crossroads' Young Carers Lead, Christine Barlow, has won the Heroes of Mann 2020 award for Lockdown Hero.
During the Covid-19 pandemic, like many of our staff Chris was redeployed from her usual role to assist with the running of the Department of Health and Social Care's Home Care service whilst Crossroads temporarily looked after it. Chris took on tasks such as shopping and delivering food, personal care and emotional support.
Unfortunately, the majority of Crossroads' own projects and schemes had to stop during lockdown, which included our Young Carers project. However, although the project was not running, Chris kept in touch with all of our young carers and their families to check in on them and see if they needed any help. Chris also delivered goody bags and Easter eggs to all of the children as a small gesture to show them we were thinking of them. Our families really appreciated Chris' and the rest of our Young Carers' team's support, and as a result she was nominated by one family to be this year's Lockdown Hero which was for someone who went above and beyond during lockdown.
We couldn't be prouder to have people like Chris as part of the Crossroads team. She went above and beyond to check in on our young carers when they were finding things tough, and she did it all with a smile on her face. Congratulations to Chris for being an absolute superstar and being awarded Lockdown Hero; she couldn't deserve it more!
Chris spoke to A Little Piece of Hope who ran the Heroes of Mann 2020 about her role during the pandemic and how she continued to support our young carers, which you can find here.