£40,000 donated so far to Young Carers Project
Quilter International's campaign to support Crossroads' Young Carers project has so far raised £40,000.
In 2019 Crossroads partnered with Quilter International as part of a three-year campaign to support our Young Carers project. Quilter pledged to donate £20,000 each year and they are on target to achieve this goal having donated £40,000 so far. This has been achieved through fundraising activities organised by Quilter's staff which has raised £20,000 with the company doubling this amount through match-funding.
The £40,000 that has been donated helped us to fund our 2019 Young Carers Festival and has also allowed us to employ an additional Young Carers Worker as part of a broader initiative to increase the number of young carers we can support through our fortnightly sessions.
Quilter's staff have also gone above and beyond for our young carers by giving them goody bags during the first lockdown and at Christmas, and by donating Easter eggs for all the children.
Hannah Murphy, Crossroads' Operational Officer, said: "Our partnership with Quilter International has allowed us to support more of our Island's young carers. Their donations have enabled us to introduce two new Young Carers groups, taking 24 children off the waiting list, and the employment of a Young Carers Worker has allowed us to offer more one-to-one support and additional sessions. We are incredibly grateful for their continued support, especially during the first Isle of Man lockdown when their staff went above and beyond to show our young carers they were appreciated by giving gifts of Easter eggs and goodie bags. Quilter International's support has had a far-reaching impact and given us the opportunity to offer more support to young carers. We have seen first-hand the positive effects this has had on our young carers and look forward to continuing our partnership in 2021."
Wendy Ranft-Gerber, communications and community investment manager at Quilter International, explains what inspired the campaign: "It all began in 2018 when Quilter PLC, Quilter International's parent company, announced a £1.5million initiative to support young carers in the UK via The Quilter Foundation – a registered UK charity which aims to help young people overcome barriers to prosperity. As part of that initiative, here in the Isle of Man we decided to support Crossroads' Young Carers Project with an aim to donate £60,000 over three years, from 2019 to 2021. That meant raising £10,000 per year, with each annual total being matched funded by the business. We've organized bakes sales, dress down days, quiz nights and many other fun events which have all been generously supported by colleagues, and the general public at events that were open to the whole community."
But raising funds only tells part of the success story, she adds: "We have all learned a great deal about how amazing young carers are, and the fantastic support that Crossroads provide. It's been really inspiring.
Young carers are real-life superheroes and seeing how Crossroads' support has had a life-changing impact on the lives of children and young people who care for relatives has encouraged our enthusiastic charity team and Quilter International colleagues to pull-out all the stops during the campaign. We have also used the resources we have in-house through our volunteering programme and our partnership with the MyBnk financial education charity – to complement Crossroads' initiatives that provide practical help to young carers."
This year, Quilter International employees will continue to fundraise for the project and we are looking forward to working with them in 2021!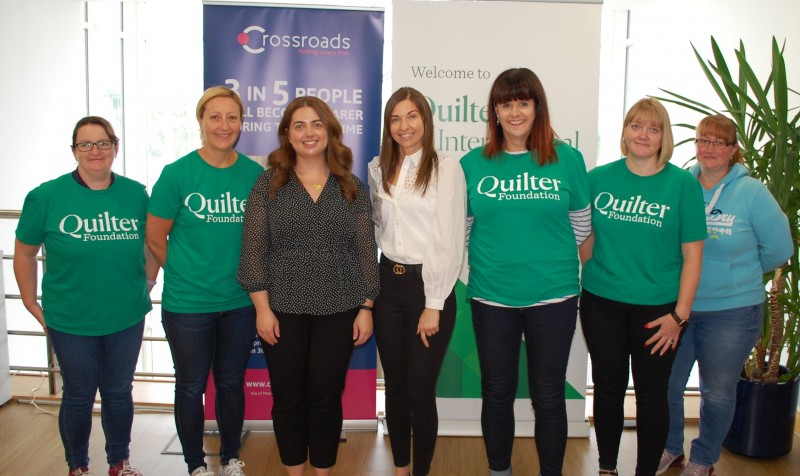 Crossroads' PR/Fundraiser, Megan Faragher, and Operational Officer, Hannah Murphy, pictured with Quilter International employees