Crossroads is an Extraordinary Islanders Finalist!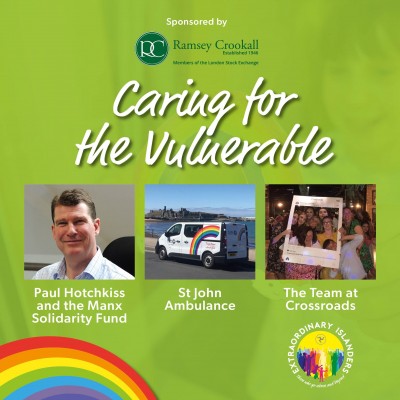 Crossroads has been chosen as a finalist in Extraordinary Islanders' Caring for the Vulnerable category.
Extraordinary Islanders was set up to celebrate the amazing people in our community and how they came together during the pandemic. It is described as 'an opportunity to applaud those who have stepped up in 2020 and shine a light on the marvellous, tenacious, compassionate, selfless and all-round amazing Manxies that surround us.'
Nominees in the Caring for the Vulnerable category (the Green Award) are described as those who 'have shown bravery and strength in caring for those who are vulnerable during the pandemic, and gone above and beyond what is expected of them to make things easier for those they look after.'
We are honoured to have been nominated in this category as there are so many incredible people who supported the vulnerable during the pandemic, especially those who are also nominated, and are very grateful to the judges for choosing us.
We are incredibly proud of how our staff dealt with the pandemic and how they continued to provide care to the most vulnerable members of our community. This award would be a brilliant way to celebrate everything they did and continue to do to help our Islander's and we would be delighted if we could win this for them as to us, they are truly extraordinary.
We would love it if you could take a few minutes to vote for us, which you can do via the link below:
Thank you!