A Visit from Buddy
On Thursday, we had a visit from Fiona and Buddy from Bridge the Gap.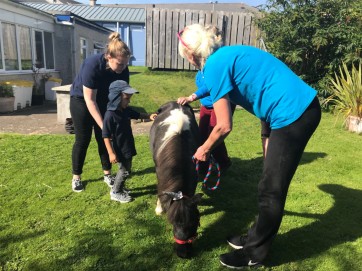 Our Social Club, Nursery and Premium Project all came together in our garden at Masham Court to meet Buddy, a therapeutic pony, and Fiona from BtG. With Fiona's help our clients were able to stroke Buddy and walk him round the garden. Fiona also walked Buddy around our Premium Project clients so they could get in on the action.
It was a wonderful afternoon, and both children and adults thoroughly enjoyed meeting Buddy.
A huge thanks to Fiona and Buddy for coming along, and Bridge the Gap for helping with the visit!
All of the photos can be found over on our Facebook page.