Young Carers Action Day
Tuesday 16th March 2021
Young Carers Action Day (YCAD) is an annual event led by Carers Trust. It raises awareness and calls for action to increase support for young people with caring responsibilities and celebrate the incredible contribution they make to their families and local communities.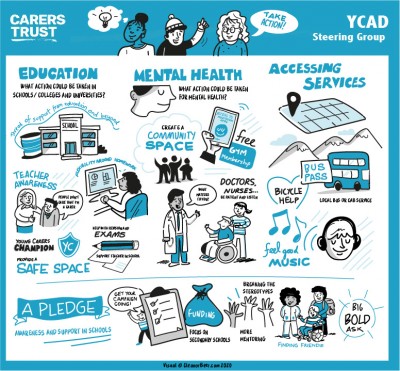 YCAD 2021 is all about young carers' futures so this year's theme is:
Protect Young Carers' Futures.
We will be joining Carers Trust in helping young carers recognise what skills they have and develop actions that they can take to engage with employers, calling on them to recognise their skills so employers are much more likely to recruit young/young adult carers. Carers Trust will also be putting out the key message that young/young adult carers have amazing skills, but more needs to do be done by the Government so young carers' skills count.
Crossroads will be holding a dress down day on 16th March 2021 to recognise and celebrate young carers' skills and encourage local schools, businesses and organisations to support young and young adult carers to realise their education, ambitions and future career dreams. We will also be visiting school across the Island to talk to pupils about young carers and what skills they have.
If you would like to get involved and hold a dress down day please get in touch for a poster or more information on YCAD. Email fundraising@crossroadsiom.org or call us on 673103.