Quiz Night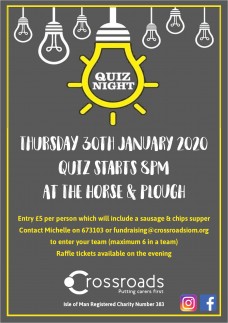 Thursday 30th January
Join us on Thursday 30th January at the Horse and Plough for our Quiz Night!
Entry is £5 per person which includes a sausage and chips meal. Teams can have up to 6 people, and there will be some wonderful prizes for the winning teams! We will also be holding a raffle on the evening.
The quiz starts at 8pm and will be held at the Horse & Plough.
If you would like to come and test your knowledge then get in touch! Call us on 673103 or info@crossroadsiom.org to enter your team!