Dig Out Your Denim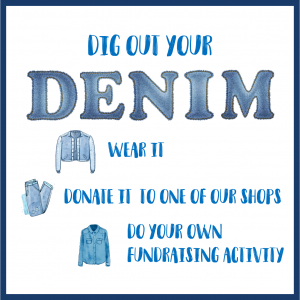 Thursday 21st November 2019
On Thursday 21st November we are asking for local businesses, schools, organisations and individuals to take part in our Dig Out Your Denim Day.
Thursday 21st November is Carers Rights Day and we want to raise as much awareness as possible for local carers and what they do. You can wear it, donate it to one of our charity shops, or hold your own fundraising event. We have lots of ideas and can help anyone who would like to take part!
If you would like to join in then please get in touch!